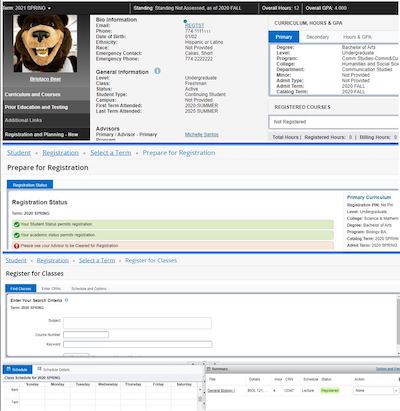 New Registration Pages in Infobear:
Coming April 2021: BSU will deploy new registration pages for students.  After 15+ years of using the existing registration pages, we hope to offer the students a modernized registration experience that offers new features to aid in the registration process.​​  Students will have the option of using the new registration pages and/or the existing registration pages in Infobear for Fall 2021 registration.
View the Video Intro »
Important to Kn​ow for April Registration:
The existing registration link has moved from the student menu to the student profile page.  Students will need to login with their Single Sign On credentials and click on Student > Student Profile in Infobear to access registration (for the existing and new registration pages). ​
All traditional Undergraduate level students will be prompted for a registration pin for Fall 2021 registration.  The pin is issued in the system when students are cleared for registration by their advisor.  Students view their Registration pin in Infobear in two places:

The Prepare for Registration link on the new Registration and Planning Page
The View Registration Pin link on the Student Profile Page
New Features and Benefits for Students: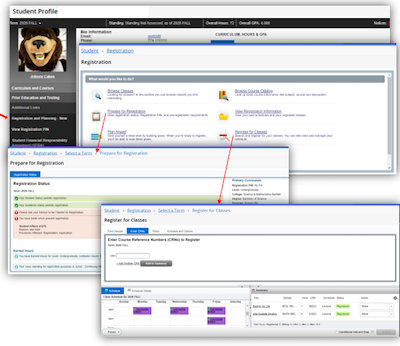 Mobile Friendly
Browser Agnostic
New Registration Landing Page
New Prepare for Registration Page

Displays Classification, Earned Hours, Program Information, Holds, Registration Pin, previously entered Overrides

Registration window with calendar and detail view
"Plan Ahead" using the Course Search 
Register "Plan Ahead" plan with one click
Conditional Add/Drop transactions
Improved error message displays
More robust Course Search

 Keyword search
 Additional search options
 Only display open course feature​ ​​
Registration Instructional Materials:
Registration Video Demonstrations:  
Text-Based Registration Instructions »
Sample Screenshots of New Banner 9 Pages »
FAQs
Will I need a registration pin to register?
Traditional undergraduate level students are required to see their advisor prior to registering.  These students are assigned a unique registration pin automatically when they are cleared for registration by their advisor each semester and will be prompted for this pin prior to entering the registration page.  This pin is specific to the term for registration.  It is not the same as the Banner pin students are assigned upon Admission.
Graduate Level, Continuing Studies, Non-Degree, and Summer students are not required to see an advisor and will not be prompted for a pin.  They are still restricted to registering during their allotted date/time on the registration schedule found on the Registrar's Office Webpage.
​How am I assigned a registration pin?​
After traditional undergraduate students meet with their advisor, the advisor marks them as Cleared for Registration.  This status change automatically assigns a unique registration pin to the student's record.  Pins are assigned instantly upon clearance.  There is not time lag/processing time.  If a student believes they've been cleared and do not see their pin, they should contact their advisor again.  Students can see their registration pin on the Prepare for Reigistration page or by clicking View Pin on the Student Profile in Infobear.
​Where can I find my registration pin?
Traditional undergraduate students cleared for registration can find their registration pins in the locations listed below. For detailed instructions visit the Banner 9 Registration - Student Resource Page.
On the Prepare for Registration page (link located on the Registration and Planning - NEW landing page)

Pins are located both in the Status Column on the left and in the Curriculum Section on the right

Click View Pin on the Student Profile in Infobear.
Do I have to use the NEW Registration Pages to register?
The new registration pages are considered an option for Fall 2021 registration.  The existing registration link will also be available lower down on the Student Profile in the left-hand panel.  The existing pages will be decommissioned later this year and only the New registration pages will be available in November for Spring 2022 registration.​
How do I access the new Registration Screens?
The new Registration pages and the existing registration links are both available on the Student Profile, on the Student menu in Infobear.  Click on Registration and Planning - New to access the Registration Landing page. ​
Can I use my Degree Works Plan to register?
The New Plan Ahead feature on the Registration and Planning landing page is separate from the Degree Works plan.  It is a new feature to help students gather a list of course sections ahead of their registration day.  Student may manually find sections that they have planned for the DW Plan, but they are not automatically linked at this time.  The Information Technology department has plans to investigate the ability to automatically load Degree Works Plans into the Plan Ahead page in Infobear in the future.  A date for this deployment is not yet scheduled.
How can I tell if my override authorization has been processed?
Students can see any previously entered override authorization details on the Prepare for Registration page for the specific term selected.​
I'm nervous about using a new registration page on an important registration morning when I haven't used it yet.
The Register for Classes link for the Fall is not active for students until their allotted time on the registration schedule, but the registration link for summer is open (no pins are required for summer).  If you are interested in a sneak peek at navigating through that page so that you will feel more comfortable with it prior to your fall registration day, feel free to poke around in there for the summer term. You can visit the page without actually registering. As a backup plan, students can for this semester only still use the old link.  They'll still need to use the new registration pin.  If a student does use the old page.  I recommend navigating to the new page once they're registered to get a better feel for the new navigation, look and feel.  Next semester all students will use the new pages.
I wanted to look at my fall register for class link but this one is summer.
Rules for registration access and registration pins are term specific. Similar to the old system, users must actively select the term for any of the links they're navigating through (prepare for registration, planning, and registering for classes).  If you find yourself on the wrong term, simply click on the registration breadcrumb at the top of the page to navigate back to the landing page and reenter the link to select the appropriate term.
I added a class to my summary, but it doesn't look like I'm registered?
Similar to the old system, when you added a course number to your old registration worksheet from a search, you still had to click submit for changes once the CRN was on your worksheet.  Now, when you conduct a search from the new registration page, you still add the course to your summary (formally called worksheet) and then click Submit to process the action.  Registration is not successful unless you click on the submit button.  Student can look at who indicators of success/error when registering:
A successfully saved message or error message in top right-hand corner
The status column in summary window indicates a status of:

Registered when success and is colored green
Pending prior to clicking submit
Gray or Error and a blue hyperlink to see the errors. 
See the drop/add video demonstrations for examples.