Coming April 2021 - BSU will deploy new registration pages for students.  After 15+ years of using the existing registration pages, we are excited to offer the students a modernized registration experience that offers new features to aid in the registration process.​​ Students will have the option of using the new registration pages and/or the existing registration pages in Infobear for Fall 2021 registration.
The existing registration link has moved from the student menu to the student profile page.  Students will need to login to Infobear with their Single Sign On (username and password) credentials and click on Student>Student Profile to access registration (for both the existing and new registration links)

 All traditional Undergraduate level students will be prompted for a registration pin for Fall 2021 registration.  The pin is issued in the system when students are cleared for registration by their advisor.  Students view their Registration pin in Infobear in two places:

Prepare for Registration link on Registration Landing Page 
The View Registration Pin link on the Student Profile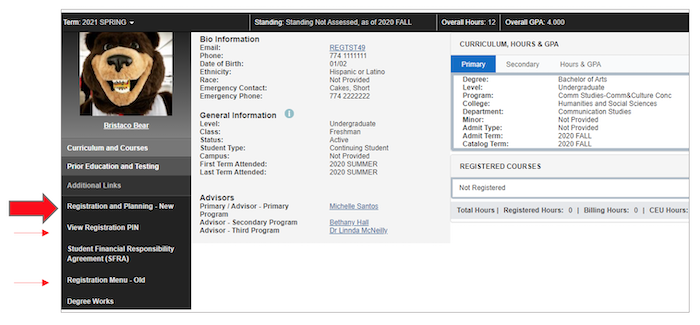 Learn more about the New Pages Coming to Banner 9.